Our Statutory Information page

Academy policies cover a multitude of issues, below are links to various categories, in total, we have around 150 polices which have recently undergone review and include several new policies which we have recently adopted.

If however you wish to have access to a policy not listed or you feel it should be displayed here, then please select the Contact link to e-mail your request or notification.

British Values
Children who attend our academy experience an enabling environment in which they will develop self-knowledge, self-esteem and self-confidence. Coupled with this they will develop the ability to distinguish right from wrong and to respect the civil and criminal law of England.
Within this enabling environment, your child or children will develop the ability over time to accept responsibility for their behaviour, show initiative, and to understand how they can contribute positively to the lives of those living and working in the locality of the academy and to society more widely.
<![if !vml]>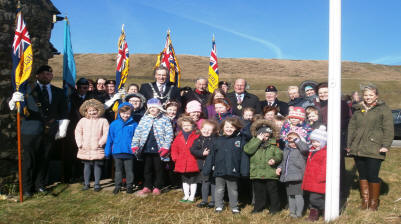 <![endif]>
While attending our academy parents can expect their children to acquire a broad general knowledge of, and respect for public institutions and services in England, and to develop a personal character that is tolerant and can foster harmony between different cultural traditions, along with respect for their own and other cultures.
We firmly believe and encourage our pupils to show respect for other people; and for democracy and the support for participation in the democratic processes, including respect for the basis on which the law is made and applied in England.
To be part of our academy, it is unacceptable on the part of any stakeholder to promote discrimination against people or groups on the basis of their belief, opinion or background.

Statutory Policies and Information

When schools convert to Academy status, they convert on an as is basis, i.e. staffing and related arrangements, policies and other legal and responsibility frameworks.

We will, therefore, continue to operate using existing policies and procedures, as little of any material significance is expected to change - examples of early changes will include letter-headings / rebranding etc. All references to the LA, are now taken on-board by The Praxis Trust.

Following the creation of The Praxis Trust revised policies will begin to appear in the coming weeks and months, once Governor / Trustee approval is made.
<![if !supportLineBreakNewLine]>
<![endif]>


Hollinsclough CE Academy and The Praxis Trust - our relationship documents


Data Protection

* Please note that the information we provide regarding expenditure of our Pupil Premium and results of end of stage Assessments is presented in a manner that reflects the fact that we are a small rural academy and that because of the low cohorts we will omit information that has the potential to identify individuals or specific families


Attainment, Progress, Value Added
SAT's 2017

Key-Stage 2
KS2 SATs

2017

Expected level

Above expected level

School Progress data

Expected

Progress

Above expected progress

Reading

75%

25%

Reading

100%

50%

SPaG

100%

25%

Spelling

100%

0%

Maths

75%

0%

Maths

100%

25%

Writing

75%

50%

Writing

100%

50%

Overall average

81.25%

25%

Overall average

100%

31.25%

Pupils achieving expected level or above in all subjects 75%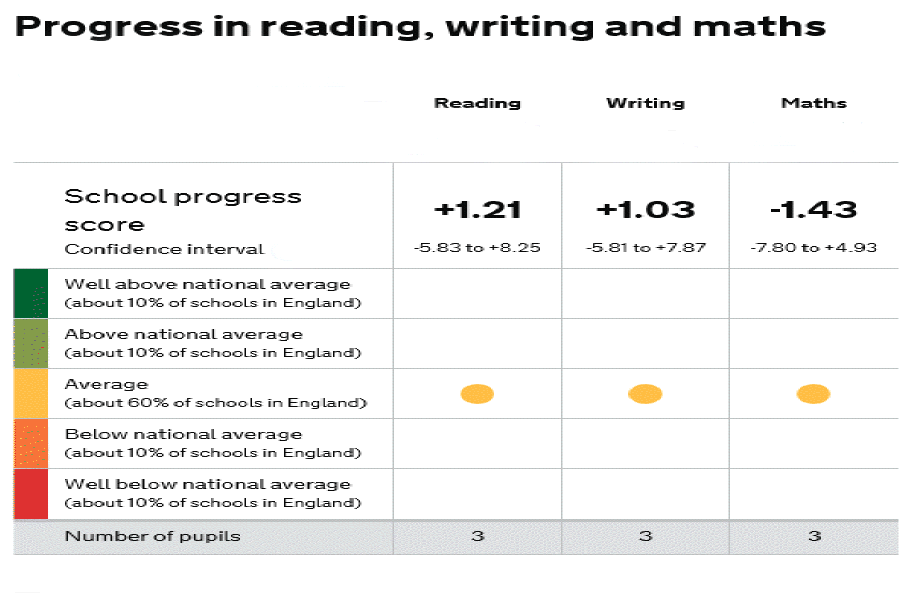 DfE Comparison Tables 2016-17
<![if !vml]>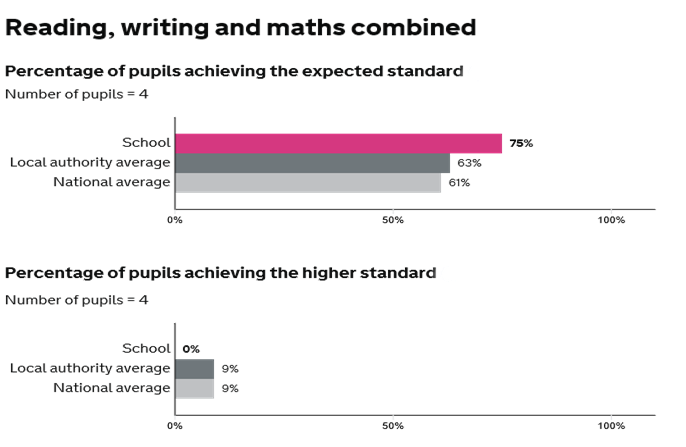 <![endif]>
<![if !vml]>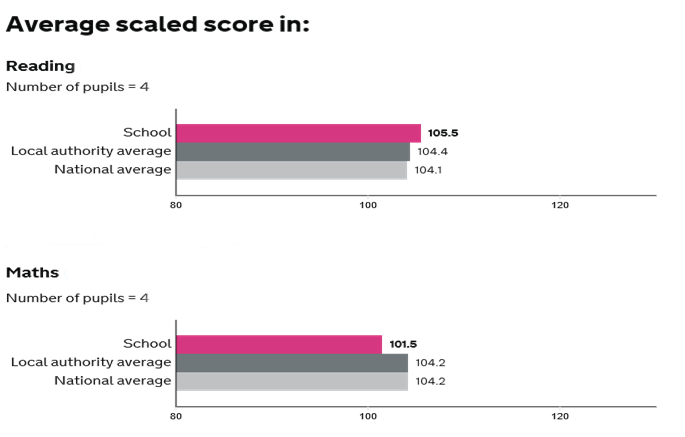 <![endif]>
Key-Stage 1
KS1 SATs

2016

Expected level

Above expected

level

School Progress

data

Expected Progress

Above expected progress

Reading

100%

83%

Reading

100%

50%

SPAG

100%

17%

Spelling

100%

33%

Maths

100%

67%

Maths

100%

67%

Writing

100%

17%

Writing

83%

0%

Overall average

100%

46%

Overall average

96%

38%

Pupils achieving expected level or above in all subjects 100%
EYFS Data for Literacy and Maths 92% GLD / Year 1 Phonics 100% Pass
Pupil Premium Grant (PPG)

Revision of the premium grant expands this allocation to include not only pupils currently on FSM but all pupils who have been eligible for FSM within the last six years and registered at our school.

We are allowed to allocate the money in a manner that will benefit these children and to ensure they have the opportunities to achieve their full potential, both academically and socially; this allocation of funds is unique to each setting.

Our Pupil Premium grant is being used for the most part to boost one to one support. This time is being focused on helping the children in this category towards attaining their full potential in both Literacy and Numeracy.
How much PPG Funding did we receive for 2016 - 2017?
Our Pupil Premium Grant for 2016-2017 amounted to just under £12,600
Notional SEND Funding £6,400 2016-2017
Combined fund of approx. £19,000.00

Summary of PPG and Notional SEND Expenditure
| | |
| --- | --- |
| Contribution towards the cost of a part time Learning / Reading Mentor / Teaching Assistant | £5,300.00 |
| Teacher led Booster Classes | £1,000.00 |
| After School and Out of School Clubs | £2,200.00 |
| Trip reserve | £500.00 |
| Resources | £1,000.00 |
| School Improvement & Staff Proffessional Development | £9,000.00 |
| Parent Courses | £200.00 |
| Total amount of combined expenditure | £19,200.00 |

Impact of PPG Funding - Our Pupil Premium Strategy

The use of pupil premium in this manner is reflected in the substantial and quantifiable progress of those children involved, which in some cases have seen pupils move up to 3 levels in Reading, which in turn boosted confidence in other subject areas.

Please see our SEND Progress chart below for further information.

SEN - Special / Additional Educational Needs / Education Health & Care Plans (EHCP)

Our academy embraces the fact that every child is different, and, therefore, the educational needs of every child are different; this is certainly the case for children with Special / Additional Educational Needs.

All schools/academies in Staffordshire have a similar approach to meeting the needs of pupils with EHCP / Special Educational Needs and are supported by the LA to ensure that all pupils, regardless of their specific needs, are given every opportunity to make the best possible progress.

All schools and academies are expected to be as inclusive as possible, with the needs of pupils with Special Educational Needs and Disabilities being met in a mainstream setting wherever possible.

The four broad 'areas of need' can be broken down as follows;
<![if !supportLists]>· <![endif]> Communication and Interaction,
<![if !supportLists]>· <![endif]> Cognition and Learning,
<![if !supportLists]>· <![endif]> Social, Emotional and Mental Health Difficulties,
<![if !supportLists]>· <![endif]> Sensory or Physical Needs.
SEND Progress 2016 -17

Subject

Expected or Accelerated

Accelerated

Reading

100%

62.5%

Writing

87.5%

25%

Maths

87.5%

75%
Swimming Proficiency
We offer all pupils access to what we term 'Flexi-Swimming' where we provide funding for each child to have a place in group lessons at their local pool after school hours.
This approach allows us to meet and exceed DfE expectations by the end of Year 6 and also releases time in the curriculum otherwise used for swimming for other subjects, thereby easing pressure on teaching.
Since our introduction of Flexi-Swimming in 2012 we have seen most if not all of our pupils meet or exceed the National Curriculum expectations for the end of Year 6. During our last Ofsted inspection we were praised for an innovative approach by the inspector.
During 2016-17 - 75% of our Year 6 Class exceeded the NC requirement
For 2017-18 - We have elected to use our sports funding to boost the whole school swimming standards by offering weekly lessons at a venue of choice to every child for the full academic year.
With our Flexi-swimming provision 92% of the pupil population from Reception through to Year 6 are taking advantage of our offer. We now have Year 4 & 6 pupils who have achieved 800m, Year 3, 4 & 6 pupils who have achieved 200m.
For 2017-18 - 90% of our Year 6 class is expected to exceed the NC requirement
Physical Education (P.E.) / Use of PE-Sport Grant

Our first actions in 2013/14 and then combined with the first instalment of PE funding for 2014/15 gave us £8,000 to focus on the development of PE and PE facilities etc. here at Hollinsclough. Our first steps were able to develop a programme of replacement/upgrade, during which time we were able to renew most, if not all of our P.E. equipment.
Below is a review of our actions and activities over recent years.
Planning and Impact Reports
2016 -2017 Grant £8165.00
| | |
| --- | --- |
| Outdoor Adventure week - the whole school | £3500.00 |
| Chris Hill Community Sports / Outdoor Genius | £2600.00 |
| Bespoke PE Advisor service | £1700.00 |
| Staff Professional Development | £400.00 |
| Total amount spent in additional to normal expenditure approx. | £8,200.00 |


2015 - 2016 Grant – approx. £8000.00
| | |
| --- | --- |
| Outdoor Adventure week - the whole school | £2400.00 |
| Chris Hill Community Sports | £2160.00 |
| Bespoke PE Advisor service | £1700.00 |
| Staff Professional Development | £700.00 |
| Total amount spent in additional to normal expenditure approx. | £7000.00 |

With our 2015 - 16 allocation (£8000) of PE funding we have ensured that specific staff undertake professional development in the form of the Level 5 & 6 qualifications in Physical Education Specialism and PE Subject Leadership at a total cost of £700 along with further development of our outdoor provision.

The knowledge gained achieving the L 5 & 6 will be utilised in future years as staff build these into their existing planning and assessment routines.

PE subject lead better able to strategically continue moving the school forward in terms of PE through the sharing of the knowledge gained with the rest of the staff.

Our Outdoor Week was also supported in part by the PE Grant. This year £2400 of the grant was used to support a week long range of outdoor activities including - canoeing, climbing, raft building and guided hill walking etc. This was also assisted by a £1400 parental contribution, which covered transport and other non-sport related features and activities.

We continue to develop our involvement with Chris Hill Community Sports and this last year we used £2160 to provide specialist P.E. coaching using their services. For 2016-17 we are planning a range of after school clubs and we are looking to extend our Flexi-swimming offer over and above current arrangements.

2014 - 2015 Grant
In addition to the renewal of equipment, we were also able to make a major acquisition through the purchase of two combined 3 in 1 Football goal and Netball / Basket Ball posts, along with new secure storage facilities, which together with the equipment replacements meant we spent approximately £7600.00.

Impact
Quality of lessons has improved in PE and pupils are all making better progress due to the new resources/ equipment we have.
60% increase in the number of activities pupils are taking part in during free time (lunch/breaks) due to the equipment that is available for them to use.
Staff increased subject knowledge and activity ideas for use in lessons.
Subject lead now feels more confident in own delivery and to also support other teachers within the school. The subject leader is also actively leading action planning improvements and monitoring the impact in school.

Sustainability
The equipment is long lasting and has a ten year guarantee. This ensures that we will be able to use this in future years. Also, the improved pedagogy of how to use the equipment that has been done with teachers and the opportunities for pupils to use in free time will have a long term impact on their skill level and health.

Equality Duty
We have carefully considered and analysed the impact the design of this website may have on equality, and its possible implications for pupils with protected characteristics. This approach forms part of our commitment to meet the Public Sector Equality Duty requirement to have due regard to the need to eliminate discrimination, advance equality of opportunity and to foster good relations.

Local Offer
See the two links shown in our Policy and Information table at the top of the page

<![if !supportLineBreakNewLine]>
<![endif]>