Welcome to our Academy and Local Community News page
This page is available to members of the Local community to promote any special events they may have an interest in.
Acknowledgment will be offered to local companies and private individuals who wish to
support
our academy.
Please contact Mr Malbon on; 01298 83303 Fax -

0872 115 6280



SKYPE name – HOLLINSCLOUGH-ACADEMY

E-mail - office@hollinsclough.staffs.sch.uk if you would like any further information about any of the events or activities listed.
----------------------------------------------------------------------------------------------------------------------

Benefice News Summer Term 2018
We are now in the last stages of the current academic year like many schools it is both a happy and to soem extent a sad time as we say goodbye to our Year 6 pupils as they move on to pastures new.
In this second aprt of the Summer term here at Hollinsclough our older children have been looking at Britain at War, whilst the younger ones having been studying animals and their habitats. All of this is coupled with everyone transitioning to their new classes within the school or with their taster days at their new schools.
Recently our older children took part in a swimming competition with other Staffordshire Moorland schools at Waterhouses where our Year 5&6 came second. The following day not to be outdone, our younger children took part in a Map Quest event with a number of Derbyshire schools we have partnered with. The event took place at Whaley Bridge Memorial Park an our children won!
From M
onday 25th through to Friday 29th June we held our 'Awe and Wonder' week. The older children visited the Council Chambers in Leek, we held a concert in day, along with workshops with Animation Nation, and our children made a range of their own Comic Strips with Buxton artist Jim Medway. Our children have also made their own puppets, written their own scripts and performed their own puppet shows at various times through the week.
Saturday 30th June was our Summer Fete and Chrome Hill Fell Race. This year the Fell race was a championship event for Nottingham AAA and was attended by over 80 runners. When taken together with the Fete our PTA managed to raise over £2600 on the day - well done everyone for your help making the day a great success. Many thanks to Buxton (Nestle) Water for their donation of cases of water most of which was used on the day.
During the first week of July we will be having an Outdoor week for the whole school which we are excited about. This includes a visit to Pooles Cavern and Forest School activities with Outdoor Genius, a visit to Manchester Museum of Science and Industry and to the Peak Wildlife Park.
Our main event is a visit to Astbury Mere for a day of water pursuits provided by Peak Pursuits. Topped off with an overnight camp here in Hollinsclough for our KS2 children and for a finali an orienteering trip to Longnor and back.
The end of term brings Tag Rugby for KS2 at Buxton Rugby Club, our annual Chrome Hill walk, parents workshops, Sports Day, Concerts, Special services and parties. After which I think we'll all be ready for the Summer Holiday! Let's hope the weather can hodl out and least stays warm and dry.
------------------------------------------------------------------
This month we will be holding the Grand Opening of our Trim Trail along with an opening ceremony for the Sanctuary Area in the centre of Hollinsclough adjacent to the Green. The area was designed and constructed by our children in memory of our former Chair of Governors Mr Jason Hails. Mrs Doreen Hails and our present Chair of Governors Mr Justin Wilson will officiate.
Our trim trail consists of a range of challenges, including low log beams, rope and net traverses, bridge and other climbing and balancing equipment, all with safety surfacing.
Our Sanctuary area in the village has seating as well as paths, flowers and fragrant plants, and was funded with an award from Manifold Valley Agricultural Society. Over the coming months, we are hoping to develop local signage and information boards for visitors to the area
and we are currently looking for supporters or sponsors if members of the local community are interested.
Other events this half term include a visit to The Bluebell School, Kidsgrove by some of our Year 5 and 6 pupils and the Great Hollinsclough Bake Off!
Our Year 6 and Year 2 pupils will be showing off their skills during SATs tests, and, as the tradition at Hollinsclough goes, will be rewarded with mugs of hot chocolate and other goodies. SAT's will be followed by Science and Money Management days, so listen out for a few explosions!
The final half term will include a D&T day at Madeley School for our older pupils, along with our 'Awe and Wonder Week' with a range of visiting artists. In early July our children will be taking part in our annual Whole School Outdoor Week, which this year include water activities at a new venue for us at Astbury Mere, Congleton. The week will also include a visit to Pooles Cavern and sessions with Outdoor Genius to name but a few.
This year our annual Summer Fete will be on Saturday 30th June, starting at 1pm. The Chrome Hill Fell Race will start at 2pm, and this year the race will be a Championship event for Nottinghamshire AAA so it will be two races in one. All welcome.
Our final outdoor event of the year will be our annual Chrome Hill Walk for the Foxes Class, linking in as always with the younger children for a paddle and splash at the Stannery on the River Dove (Weather permitting).
As part of our end of year events, we will be hosting a summer concert (we hope it could be a proms in the park performance – weather permitting) in which our school band 'The Other Direction' will play a part. The event will also feature representatives from 5 other schools who will all be performing on stage.
Our end of year production will be a musical trip through history with a science twist, featuring famous scientists such as Einstein, Marie Curie and Charles Darwin.
Finally, if you missed our Open Day in April and are still looking for a school place, then please feel free to contact us and arrange a visit to our school. Wednesday afternoons are set aside for visits.
---------------------------------------------------------------------
Important News Update

Hollinsclough had a SIAMs inspection at the end of January. I'm delighted to say that we have been judged to be 'OUTSTANDING' by the Diocese. It was stated that we are a school where 'each and every individual experiences love and care through Christian values, lived out daily', and that 'the school, through its distinctive Christian character, is outstanding at meeting the needs of all learners'. I am so proud of the children, staff, parents and governors who have all worked so hard to make the school such a happy, caring place.
This year, we again entered the Manifold Agricultural Show Committee competition. We were thrilled to again come second, and we are now beginning to develop our project. This year we will be creating "Our Amazing Animals" wire sculptures around the school and the village, of local farm animals, local wildlife, and exotic animals. We hope to invite a wire sculptor into school to help kick off our project, and the children are very excited about transforming the village yet again. We also continue to maintain our 'Hollinsclough Sanctuary', which we were able to create thanks to last year's show competition winnings.
These aspects fit in well with our 'Aspirations' term, where we all aspire to be the best we can be. January ended with a day of activities run by Severn Trent Water, which have inspired our pupils to start an eco-group. February also brought inspirational talks from author Pippa Pixley, and Detective Leila Soleimani, which inspired our children to do some detective work of their own! This term also brings visits from 'Farmer Dave' to talk about a day in a farmer's life, Channel swimmer Hazel Killingbeck, Airline pilot Martin Jones, and our own Rev Tommy Merry who will talk about a day in the life of a vicar – all as part of our Aspirations focus. Some of our children will be entering the Radio 2 '500 words' competition, on the way to becoming authors in their own right!
February brought pancakes and movie night, Ash Wednesday blessings and an afternoon of art and craft to celebrate love on Valentine's Day. Before half term, we had Chinese Day to coincide with Chinese New Year, and after half term, the staff and children celebrated World Book Day, with a variety of activities and competitions.
Our 'Project Friday' pupils have been studying Lowry, and have produced some excellent art work which will be displayed at the Mitchell Memorial Theatre. Our choir will be performing their rendition of 'Matchstalk Men and Matchstalk Cats and Dogs' at the Theatre after Easter, when our school band, The Other Direction, will also perform to an audience of around 400.
We also had a visit from staff and children who attend The Bluebell School in Stoke-on-Trent, and we have formed an ongoing friendship with them.
March sees us Raising the Flag at Flash with pupils from St Bartholomew's school to celebrate Commonwealth Day, planning for Mothering Sunday, There will also be our annual pilgrimage to St Bartholomew's Church and school in Longnor to celebrate Palm Sunday.
Our Easter Service will be in Hollinsclough Chapel on Thursday 29th March at 9 am. Everyone is welcome to attend. This will be followed by our annual Egg Hunt and Easter Bonnet Parade.
May I again thank our local community for all of their support.
Janette Mountford-Lees
Janette Mountford-Lees MA B Ed NPQH
Principal
Hollinsclough CE Academy
-------------------------------------------------------------------
Benefice News January 2018
Happy New year from all at Hollinsclough!
We have started the term hearing the news that our Director of Education for the Lichfield Diocese, Mr Colin Hopkins, has been honoured with a MBE. Many congratulations to him.
This term is our 'Aspiration term', and we plan to have many visitors to our school talking about the job they do, and inspiring our children to think about their future. This includes visits from a Police Detective, an Airline Pilot, a musician, a farmer and a Church Minister. Severn Trent will also be sending a representative who will spend the day at our school, and will be teaching workshops explaining and demonstrating where our water comes from, and what happens to it when we flush!
Additionally, our Foxes class (Y5&6) will be going 'Around the World in a Term', looking at human geography, natural resources (and disasters) and distribution, including the impact that rivers have on our lives. Our Badgers class (Y2,3&4) will become philosophers, debating Good versus Evil and looking at a variety of myths and legends; while our Hedgehogs class will be looking at Superheroes, including Tim Peake and his journey into space.
During this term our children will be organising house meetings, and discussing issues such as safer internet use, and planning for World Book Day, whilst our KS2 teacher, Mrs Lynda O'Sullivan, will be hosting another Global Learning information session for heads/teachers from other schools.
We continue to support Derby University students, and our first student of the term begins her training at the end of January. We are also working with Derby University on an Educational Paper about flexi-schooling.
Towards half-term we will be thinking about pancakes, the Chinese New year and St. Valentine's Day. The start to the new year looks very exciting, and we hope that our children continue to be enthused about their education.
If anyone wants to contact school to learn more or would like to visit, please phone 01298 83303
---------------------------------------------------------------------
Christmas celebrations at Hollinsclough School on last Monday of lessons - Christmas 2017
Children excelled in song for Tomato face and the reindeer.
T, Lady of Hollinsclough raised a bumper auction from Chatsworth tuck to winter pyjamas.
Soft snow by the road side set the tone for a perfect pre-Christmas moment at Hollinsclough for 2017. Record raffle auction followed a magnificent carol service on Monday morning of the last week before Christmas at Hollinsclough School, headmistress Janette Mountford-Leas introduced the children who performed an outstanding carol performance all the way to 'Tomato face' who they had fondly renamed Rudolf the Red Noised reindeer. Parents and friends were enchanted by the little ones splendour in song. The school was awash with cake, mince pies and festive treats in a Christmas open day afternoon. Tracey, Lady of Hollinsclough took to the floor to aid the annual Christmas auction and raised a bumper income from Chatsworth cake and jam to Hartington cheese and size sixteen pyjamas in pound bids that went through the roof to raise almost five hundred pounds. A festive treat was had by all.
Hollinsclough Academy School Principal Janette Mountford-Lees holds the produce as T, Lady of Hollinsclough rattles the hammer on a bumper bonanza Christmas auction
Carl Lomas MBE - Lord of Hollinsclough
<![if !vml]>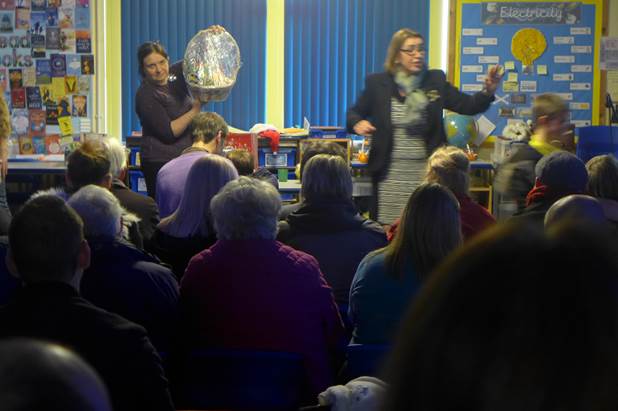 <![endif]>
The weather seems to be changing as we begin our preparations for Christmas. This year we are having a Grand Christmas Auction on the afternoon of 18th December, so come along for a bargain!
We will soon be enjoying panto season, an our children will be going to see at the Buxton Opera House and our rehearsals for our Nativity and Carol services are underway. Also preparations for end of tern festivities, including Christmas dinner, the Christmas Disco and a very special visitor!
Meanwhile Badgers class have made a full working model of the Fire of London, though with LED lights rather than real fire! Hedgehogs have organised their own weather station, and have had much reporting to do this month. Foxes continue with stories of Beowulf and other exciting tales, and have been supported by University of Derby student. More students will be training with us in the new year.
We held a very respectful Remembrance Assembly on 10th November, and our children have written some very moving poetry, which is displayed in our entrance hall.
The school House Captains have recently led workshops on Anti-Bullying and Building the Best School, and staff have led a workshop for parents on phonics, reading, writing and maths.
The Hollinsclough school band, The Other Direction, are doing very well, and have performed with other schools in Stoke-on-Trent, and also at The Mitchell Memorial Theatre! Many thanks to Mr Brom, our talented and inspirational music teacher.
Staff were invited to a Learning Exchange Conference in North Wales in November, and the school has been visited by Welsh Assembly officials who are interested in our Flexi-schooling model.
We continue to grow, with 3 more new pupils since half term.
We hope everyone has a safe and inspirational Christmas and peaceful New Year.
-------------------------------------------------------------------------
Benefice news -
First Autumn Half term 2017
We've had a lovely start to the new term here at Hollinsclough. New children have settled in well, and everyone seems newly enthused and full of energy.
The number of children on roll is rising and currently stands at 51.
The enthusiasm for our possible KS3 class remains high within the school and enquiries from beyond are now starting to increase, with families from as far away as Gloucestershire actually looking to move into the area just so they can attend - watch this space.
We have already been on a couple of Autumn walks, and have noticed how the colours of the leaves have changed, and other signs of Autumn. It will soon be time for our annual Night Walk.
All KS2 children have been on a Faith Trail to Derby to visit a Mosque and a Gurdwara, as well as tasting delicious Asian cuisine. They are busy comparing religions, finding out similarities as well as differences. They are now also being very technical and are developing their own websites.
Years 5 and 6 are learning about Beowulf and all things Anglo-Saxon, as well as exploring light in Science.
Years 2, 3 and 4 are learning about the Great Fire of London and a variety of states of matter in science.
Year 1 have joined our Reception children this year, and they have been busy looking at how the body works, and at how the world has changed since Victorian times.
Mr Bromfield, our music tutor, has introduced ukuleles, as well as guitars, and our own Hollinsclough Band,
'The Other Direction', are now even writing their own songs!
I hope this enthusiasm for new learning continues as the days grow darker!
If anyone wishes to visit the school, please contact our Bursar, Mr Malbon on 01298 83303
-------------------------------------------------------------
Benefice News Update from Hollinsclough for Summer 2017
Congratulations to all of our hardworking children who have just completed their Year 2 & 6 SATs. It was great to see the children eager and keen to do their very best, I think it was the promise of hot chocolate and biscuits after they'd finished!
This half term has seen us celebrate Money Management Week, where the children have been marooned on a desert island, and have had to barter with other islanders to get the things they would need to survive. I think all have now agreed that an Xbox isn't really a necessity.
Since returning from the Easter break the children have been very busy, not just with SATs but with their new topics. Our older pupils are investigating Crime and Punishment, where they are meeting up with the likes of Dick Turpin, while are younger pupils are exploring rainforests. All our children have also started learning the guitar as part of our music provision, as well as drums and other musical instruments. We're hoping to start up our own Hollinsclough Rock Band soon – watch this space!
The second part of the summer term is when we have all our special activities which we hope will lead to more profound learning, and learning for life. These activities are aimed to deepen and expand traditional learning, and to ensure that our children remain equally excited about their reading, writing and mathematics, and see new ways and real life uses for these, as well as encouraging our children to use their imagination and creative skills and see the importance of health and vitality.
All our Children enjoyed two days of our annual 'Great Hollinsclough Bake Off', where the children worked within their team houses to decide on menus and recipes, and write shopping lists and price ingredients, on the first day, whilst the second day was for making and judging. Our special judges were a visiting university lecturer and a contributor to an educational blog, who were both overwhelmed by what the children had produced, and ended in each group receiving a prize within the four categories of healthy snacks (including vegetarian), variety of choice, cooking skill and final presentation.
After half term we will be having our 'Awe and Wonder' week'. This will include many visitors to the school, including artists. We will be looking at Pentecost Art, with Father Tommy Merry from Stoke-on-Trent, digital Art with Buxton Artist Jim Medway, a day of music appreciation, learning and performance provided by Entrust, Puppet making, play writing, set making, music and performance by 'Funny Wonders', who took part in the Buxton Art festival, painting in the style of an artist, and Wild Art activities provided by 'Outdoor Genius'.
Later in the term we will be having a Science day, and our annual Outdoor week, which included rafting, bouldering and orienteering.
As a school we are looking at 'Global Learning' and have become a hub for a network of schools who are also interested in the concept. It shows the children how we depend on the global economy, and also support British Values. On Friday before half term we hosted a session for other schools in our network, so that they can see what we have been doing.
Finally we have been lucky to have some lovely sunshine and warmth. We have tried to make the most of this by working and eating outside, and having walks around the hamlet. We hope the good weather continues into next half term.
-----------------------------------------------------------------------------------